How to find your online competitors
You might be shocked to learn who is fighting for your keywords in search – it's not always as obvious as you believe.
This Insights article discusses how to understand the SEO competition by focusing on organic competitors.
Why is it critical to identify your online competitors?
There are numerous reasons why it is critical to identify your online competition. It can aid in the identification of a wide range of business opportunities.
Discover new business competitors.
The first thing to keep in mind is that your internet competition may not be the same as your physical business competitors. A prominent digital investment from an otherwise unknown or newer brand may have entrenched them as a prominent presence on Google, which may surprise your company.
Recognise market trends and opportunities
You can learn about the latest market trends, customer behaviours, and new company prospects by investigating your competition.
Benchmarking
Analysing your competitors' online presence enables you to evaluate your own strengths and weaknesses in comparison to theirs. This will assist you in developing a stronger marketing strategy and improving the image of your brand.
Identifying your unique selling point (USP)
Understanding your competitors' offers allows you to uncover market gaps that your company can fill. This will assist you in developing a unique selling proposition that sets you apart from your competition.
Increased client satisfaction
By examining your competitors' customer reviews and feedback, you can find areas where your firm needs to improve. This will aid you to improving your products, services, and customer experience to achieve greater customer happiness.
Keeping a step ahead of the competition
Monitoring your competitors' online activity allows you to anticipate their actions and respond promptly to market changes, allowing you to stay ahead of the competition and relevant in the industry.
Recognise your competitors' organic initiatives and respond accordingly
The initial stage in the competitor research process is to identify the online competition. You can find gaps in your plan by analysing what your competitors are doing effectively.
For example, you may see that some competitors have a thriving blog with excellent informational articles, but you do not. Or, while you and they may be producing similar content, they may have far more domain authority than you due to investment in link development and digital PR.
Knowing who your competitors are is the first step to delving into their SEO techniques and spotting opportunities.
1. Determine your target keywords
If you don't know your own target keywords, you won't be able to identify your online competition.
Conduct keyword research to determine your company's core target keywords and map them to the URLs on your website. This can be accomplished using both paid and free tools.
On the paid side, tools like SemRush and Ahrefs are quite beneficial for conducting keyword research. For free resources, you can use Google features such as People Also Asked and Related Searches, which are useful for getting ideas.
Google Search Console is also a fantastic tool for understanding the queries people use to find your website.
Once you've determined your target keywords, you can begin researching who is competing for these terms.
2. Check Google manually
Add your list of goal terms to Google and take a look around. Make a spreadsheet with the target phrase and the top ranking rivals for that term, and then repeat for your core keywords. This is clearly not practical on a wide scale, but it can be handy if you only want a short glimpse of the primary organic competition.
Make sure to do this for target keywords for each of your company's primary services or products, not simply the'main' keyword. This is due to the fact that your competition in each area of your organisation may differ. For example, looking at who is ranking for 'digital marketing agency' would give us a good idea of who our organic competitors are. However we would want to look at who is ranking for each of our main services, so we would repeat the exercise for phrases such as 'seo agency','web development agency' and 'marketing agency'.
Although there may be some overlap, the websites that rank in Google for each of these terms are most likely distinct.
3. Make use of the related: search operator.
Use search operators to gain more detailed information from Google search results. They are useful. Using'related:' will show you sites that are comparable to a domain. In the case of related: staxogroup.com.com,
It's usefulness also seems to vary, with some powerhouse domains returning no results.
But still, It's worth a chance! Give it a shot and see if your domain produces any results; it could be valuable in identifying additional competitors you may not have considered.
4. Use paid tools
Paid tools are an optional choice, but if you have access to them, they're a great way to locate your online rivals and expedite the process.
You can quickly see who your domain's competitors are by typing the name into Semrush and using the Competitors tab in the Organic Research section. This is determined by the number of ranking keywords and the amount of common keywords between your domain and competing domains; if there are a big number of common phrases, the domains are considered competing.
It also offers predicted monthly traffic, which is important to note because it can serve as a valuable barometer for comparing the levels of competition from various domains.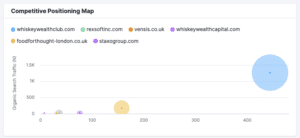 With competitors identified, you could then use this information and further tools within Semrush to carry out a keyword gap analysis – identifying keywords that competitors rank for but you don't, or where competitors are ranking higher than you for the same keyword. This information should factor into your SEO strategy. Ahrefs does a similar thing, too – check out the Organic Competitors section within the Organic Search sidebar and you'll see similar useful keyword overlap, traffic estimate and other data: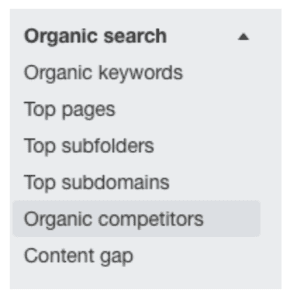 5. Understand the type of content that is ranking
This is an important element of the SEO process that many forget about once the competitor analysis is done. You may have discovered your target keywords and begun to determine which domains compete, but you should not stop there.You need to implement a proper content strategy with the identified keywords and other data.
For example, the keyword 'content management software' gets a Google results page comprising of review sites and instructional pages all targeting 'what is a content management system'. If we were trying to rank our content management system product page for this query, we'd think twice after seeing these SERPs because that page appears to contradict Google's assessment of the user's search intent.
With your goal keywords in mind, determine the search intent of those queries by inspecting the URLs that rank – are they informational, transactional, navigational, or commercial.
Ensure that the page you want to rank for that phrase corresponds to that intent; otherwise, you'll be fighting an uphill battle.
To conclude
Here is a quick summary of what we explained above:
Finding your online rivals is crucial because you might not anticipate them being there.
In order to learn more about what is and isn't working in your competitors' SEO efforts, you must first identify your organic competitors.
First and foremost, it's crucial that you comprehend the target keywords for your website. Look them up on Google to see which domains your competitors are using.
Use a reputed paid tools if possible. These can reveal other rivals you weren't aware of and enable you to advance your research by delving deeper into the keyword overlap and potential.
Knowing who is ranking is just the start; be sure to understand the categories of pages these websites are ranking for. By making sure your website fits the right search intent, you can be sure to provide searchers and Google with what they want.
You can reach out to a STAXO Digital Marketing Expert if you need further support.