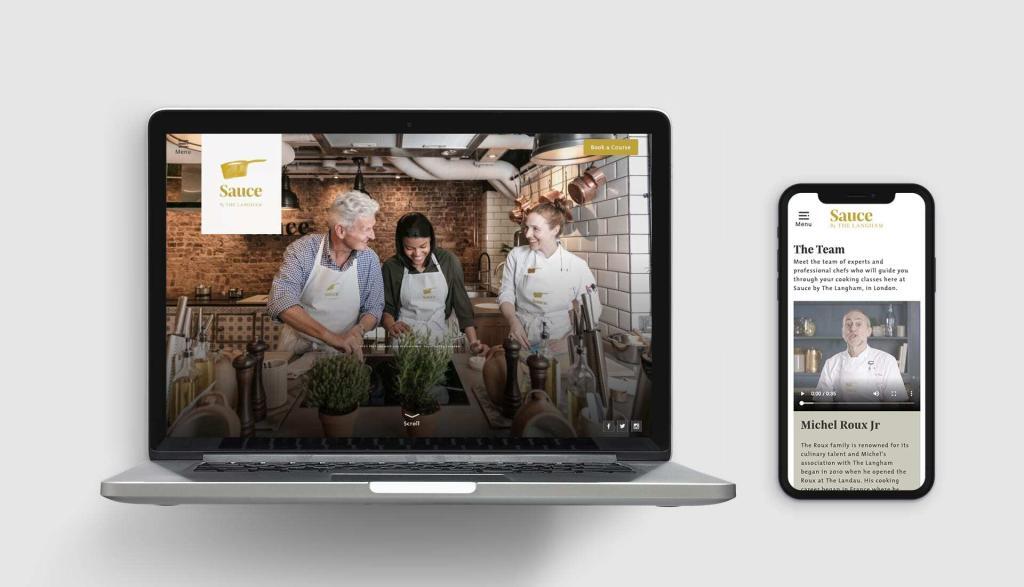 Sauce By The Langham
An immersive website experience for London's foodies and corporate clients
---
Hosting,
Maintenance & Support,
Website Design
Who is Sauce by The Langham?
The Langham, London is one of the most iconic hotels in London. It has a rich and long 150-year history of being the birthplace of afternoon tea. The decision was made to turn the old library into Sauce by The Langham, a cookery school where customers can enjoy luxury cookery experiences with professional chefs in a beautiful space.
Sauce by The Langham cookery school is a fun and creative way to learn new cooking skills or build on what you already know. The cookery school offers 'Building Block' classes and 'Masterclasses'. Both classes are taught by some of London's most expert chefs who share their expertise in a relaxing and informative way. Explore classic recipes from The Langham's restaurants, learn tricks of the trade and enrich your culinary knowledge.
The Brief
The STAXO team were tasked with developing a modern and agile website for the Sauce cookery school. The website needed to cater to The Langham's corporate clients and foodie individuals. The new website needed to portray Sauce by The Langham in line with their brand guidelines and position it correctly in the marketplace alongside its competitors.
The Process
Through a series of workshops, the STAXO website design and web development teams discussed the overall strategy to refine the fundamentals of the new website's functionality, user journeys and design.
The visual and video elements add timelessness to the website and allows users to immerse themselves in the kitchen and courses. A bespoke booking system was developed for the classes, so no third-party plugin or system was required and depended on.
The Result
The result is an immersive website experience for London's foodies and corporate clients. The website is beautiful, responsive, and functional and designed from the ground up to drive new class bookings for Sauce by The Langham.
Visit Website
We have partnered up with STAXO to develop a brand new website for our renowned Palm Court afternoon tea lounge and website with embedded booking engine for our newly opened cookery school Sauce. From the start the STAXO team made sure to provide us with a very detailed project plan and made sure to engage all stakeholders from our side.
Kasia Rudnik
Director of eCommerce
Get in Touch
All great relationships start with a conversation, so please get in touch.