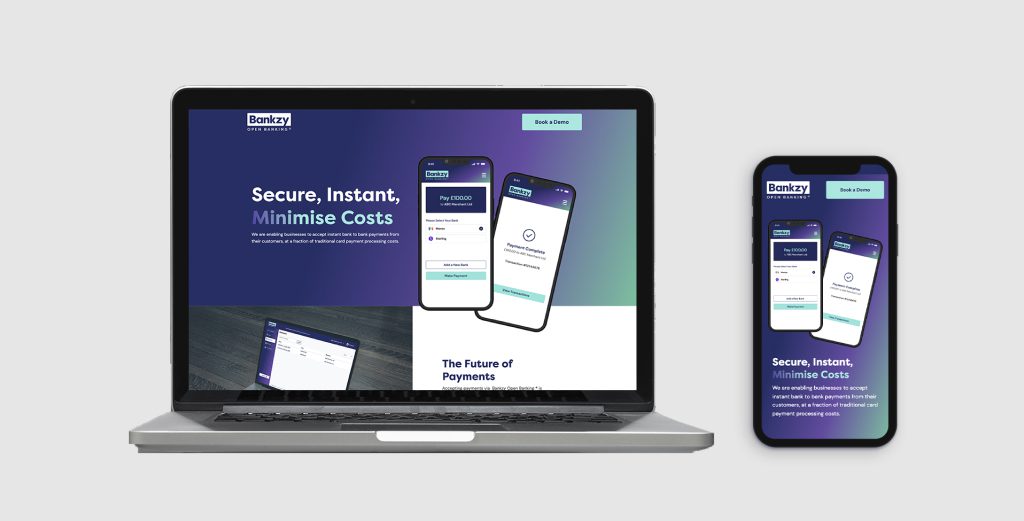 Bankzy
Revolutionising Open Banking Payments
---
Branding,
Hosting,
Software Development,
Web Development,
Website Design
Who is Bankzy?
Bankzy, a rising star in the FinTech industry, is revolutionising the world of open banking payments. In an era of ever-evolving financial technology, Bankzy stands out as a dynamic and innovative open banking payment solution. Committed to providing cost-effective and user-friendly alternatives to traditional payment methods, Bankzy sought a strategic digital partner to help them transform the landscape of payments.
The Brief
Bankzy recognised the challenges faced by merchants, particularly when dealing with large-ticket transactions. Traditional card transactions often incurred substantial fees, diminishing the profitability of businesses. The brief was clear: to provide a seamless, cost-effective alternative for both merchants and consumers. STAXO, renowned for our expertise in digital solutions, was approached to be the digital partner in this venture. The challenge was to create an innovative payment platform that could reduce transaction costs and incentivise customers to embrace open banking solutions.
The Process
Embarking on this journey to transform the payments landscape, the process involved a series of strategic steps:
In-Depth Research: STAXO conducted a comprehensive analysis of open banking APIs and technology, identifying opportunities and challenges within the financial industry.
App Development: A user-friendly mobile app was developed to guide customers through the payment process. The app seamlessly integrated open banking APIs to facilitate bank transfers.
Point-of-Sale Solutions: STAXO pioneered the introduction of point-of-sale terminals for physical retail locations. This innovation is allowing merchants to accept open banking payments in-store.
Customer Incentives: To encourage user adoption, STAXO worked with Bankzy to implement a rewards system. Customers are incentivised with discounts, making the transition to open banking a win-win for both merchants and consumers.
STAXO provided a comprehensive range of branding and marketing services for Bankzy, including the creation of a distinctive logo that encapsulated their innovative payment solution. We also designed and developed a website that harmonised with Bankzy's brand identity and objectives. In collaboration with Bankzy, we crafted a full suite of marketing assets, encompassing promotional materials, content, and strategic approaches to effectively convey the advantages of open banking payments. Additionally, we designed professional business cards and email signatures, aligning with Bankzy's dedication to providing cost-effective payment solutions. These services collectively contributed to enhancing Bankzy's brand image and promoting its open banking platform.
The Result
The collaboration between STAXO and Bankzy is yielding remarkable results:
Reduced Transaction Fees: Merchants benefit from significantly lower transaction fees, allowing them to retain a more substantial portion of their revenue. Instead of paying substantial card transaction fees, businesses only incurred a minimal cost.
Enhanced User Adoption: By offering customer incentives and a user-friendly payment app, Bankzy witnessed a surge in user adoption. Consumers embrace the new payment method, lured by the prospect of discounts and rewards.
STAXO's contribution as the digital partner played a pivotal role in transforming Bankzy's vision into a reality. The partnership not only addressed the challenges associated with traditional payment methods but also provided an innovative solution that benefits both merchants and consumers.  
Visit Website
I approached STAXO Group after viewing a google advert around 3 years ago. They have become our most valued partner, and responsible for the development of the Bankzy Open Banking platform. Their team are all exceptional, and in particular both our Lead Developer David and Project Management lead Julie. For anyone who may be in a similar position to what I once was, and going through the steps to consider a technology partner, I can safely assure you will not be disappointed. Thank you STAXO Group for continuing to surpass our teams expectations and for your support in driving our business forward.
Bankzy
Gregg Morris, Founder Get in Touch
All great relationships start with a conversation, so please get in touch.