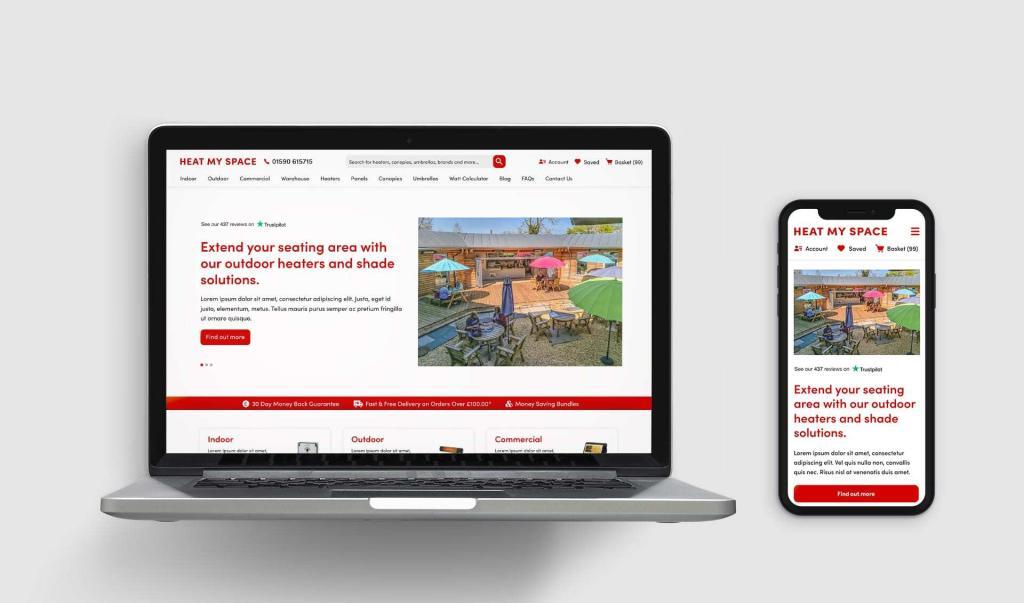 Heat My Space
A BESPOKE E-COMMERCE WEBSITE FOR HEATING PRODUCTS
---
E-Commerce,
SEO,
Web Development,
Website Design
Who is Heat My Space?
Heat My Space has been trading for 14 years, specialising in awnings, canopies, parasols, outdoor infrared heating and the increasingly important indoor electric infrared space and panel heating product range. They source their products from proudly UK manufacturers where possible and have built up a lot of valuable knowledge and expertise in their products. Since 2015, Heat My Space has operated two online e-commerce businesses, with each website selling different products.
The Brief
Heat My Space approached STAXO to redesign their separate websites to increase expansion and conversions. STAXO recommended that the team combine both websites into one e-commerce store to capitalise on cross-selling and avoid doubling up on their resources.
The Process
During weekly workshop sessions, the STAXO design and development team was initially tasked with getting the former site up to standard. Once both teams were happy with the result, a digital marketing campaign was launched to increase traffic. This included a new paid digital marketing campaign to drive targeted traffic to the site to convert leads.
A new e-commerce website was then designed and built by the STAXO team, so Heat My Space could achieve its monthly revenue targets and expand its business. Once the website launched, STAXO created a series of dedicated and dynamic private landing pages. Each dedicated landing page focuses on the agreed keywords, allowing paid traffic to land on relevant content.  
The Result
The design of the new Heat My Space website is clean and simplistic, and dynamic. It focuses on ease of use and qualifying referrals. The result is a highly flexible, fully optimised, bespoke website that supports them as they continue to expand. The new e-commerce site now offers superb indoor and outdoor electric heating products and a wide range of excellent parasols, accessories, and fittings. Get in Touch
All great relationships start with a conversation, so please get in touch.