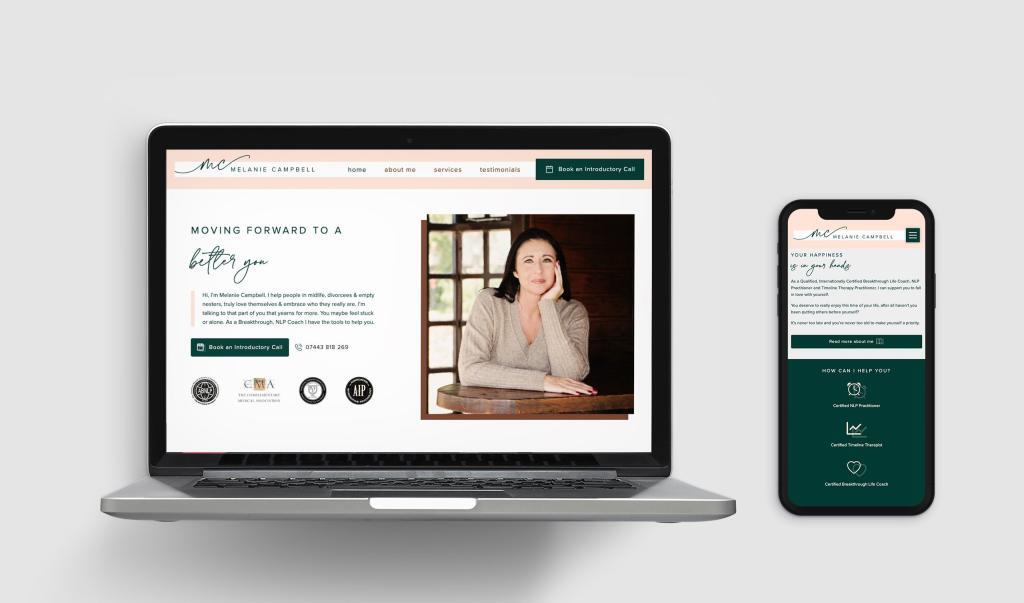 Melanie Campbell
An aesthetically pleasing website with new branding and functionality
---
Branding,
Web Development,
Website Design
Who is Melanie Campbell?
Melanie Campbell is a certified life coach and NLP therapist based in London, working with people from all walks of life to help them to rediscover their true purpose and encourage personal growth.
Melanie's story started when she realised she had lost connection with herself. After much inner work, Melanie developed strategies to ensure she showed up for herself every day, and found the courage to be honest with herself and brave enough to face her demons, unpicking all those issues that would enable her to become her best self. It was this that made Melanie open her own business to help others.
The Brief
Melanie approached STAXO to assist in creating a new brand for her practice and a new website to showcase her coaching and therapy services. The site would ultimately need to act as a platform for interested clients to get in touch, with the option of booking a free introductory session or reaching out to Melanie personally.
Client testimonials and Frequently Asked Questions were required to guide and inform potential new clients considering using Melanie's services, empowering them with the knowledge they needed to start their journey.
The Process
The STAXO design team worked with Melanie to understand her personal story, capturing the essence of her personality and style of therapy, and translating these feelings and ideas into her unique brand. Once the branding had been established, the framework for Melanie's new site was created through a series of design and development workshops. At the same time, our copywriting team worked closely with Melanie to communicate her message to potential new clients.
The Result
Using solid calls to action and intuitive navigation combined with elegant and simple design, the STAXO team were able to provide Melanie with all the tools she needed to launch her new business. Thanks to the user-friendly CMS and website back-end, Melanie is now the proud owner of a website that can adapt to her business as it grows.
Visit Website
Developing my website – at the same time as managing my growing business and family – was a deeply personal process. Saying this, the whole process was made easy and enjoyable thanks to the team at STAXO, who worked with me from the start of the process to ensure the site captured and communicated my message clearly.
Melanie Campbell
Melanie Campbell | Owner & NLP Coach
Get in Touch
All great relationships start with a conversation, so please get in touch.